Novels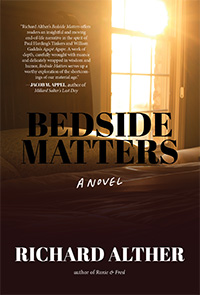 Bedside Matters
Walter had mastered the business world at an unaccounted cost to discover in old age and ill-health a disease that would render his body useless. His mind, however, was trapped as it was, and had an unconventional final act to play to everyone's surprise, including his own.
While Walter reads the 13th-century Persian poet Rumi's work, his inner life takes on a new shape, as his body continues to betray him and deteriorate. He says a long, reluctant goodbye while engaging a side to life that has been unexplored until now. For the first time, Walter seems to be experiencing life as a poet would, even as the inevitable end comes closer.
A cinematic non-linear take and frank examination of the promise of life, even at its end, Bedside Matters concern us all at one time or another as we ask the ultimate question: what matters most?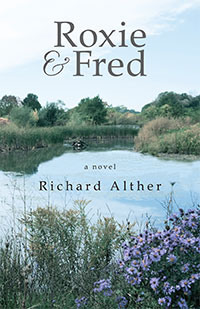 Roxie & Fred
They meet by chance. Age doesn't matter.
Roxie is sequestered alone in her woodsy retreat, having survived a lifetime of romance and fervent outreach to underprivileged women. A misfit herself as wife and mother, she's content now with her garden, yoga, and art.
Fred in his prime, children launched, has left his uninspired wife and work to paint fulltime without the support of his mate for the first time in his life, shackled only with his demons of doubt.
And then one day in a life-drawing class…
"We've had Colette's aging courtesan Lea and her young lover Cheri; the unlikely pairing of the movie couple Harold (age 20) and Maud (age 79); and, most recently, the 39-year-old President of France, Emmanuel Macron, and his 24-years-older wife Brigitte. So the timing seems perfect for Roxie and Fred, Richard Alther's novel of sex and friendship between an 88-year-old woman (in excellent shape!) and a 40-years-her-junior man (who requires a diet and some exercise to keep up). Readers will enjoy the warm-hearted celebration of this zesty old woman savoring the hell out of her final years."
~ Judith Viorst, journalist and bestselling author of
I'M TOO YOUNG TO BE SEVENTY
"Brilliantly written! I really enjoyed this book, I couldn't put it down, a wonderful love story with so much depth, I felt very inspired and very young when I finished it. What a delight!"
~ Nicola Griffin, Internationally Acclaimed Mature Model
"Sharp and sensual, Roxie and Fred is a provocative love story that explores…two very different people who yearn for connection. A sweet, sultry romance that shows how desire based on intellectual attraction trumps disparities of age and experience. These artists' affair is definitely one to remember."
~ 5-Star Review by Claire Foster in Foreword Reviews
Now Available from Regent Press.
Visit Website: roxieandfred.com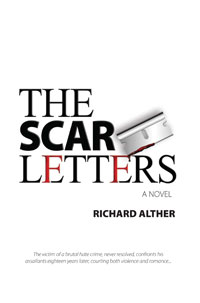 The Scar Letters
The victim of a brutal hate crime, never resolved, confronts his assailants eighteen years later, courting both violence and romance…
"…a beautifully written account of a gay man's psychological and emotional journey from being the victim of a chilling hate crime to blossoming into a self-assured individual. Rudy must reconcile not only the horrible memory and scars of his attack, but also his childhood and romantic past….Beyond fiction THE SCAR LETTERS is a valuable player in the social battles and conversations that permeate the media and all of our relationships today."
~ Elise Wallace, The Editorial Freelancers Association
Visit Website: thescarletters.com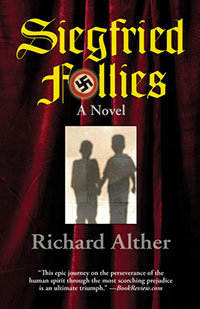 Siegfried Follies
Blond, blue-eyed Franz, a Hitler Youth, in fleeing his Nazi birthing home as bombs destroy Munich, saves a filthy, speechless Jewish boy thrown from a train. Witnessing atrocities, surviving the loss of family, they create a home and brotherhood that both defies and affirms their past.
"How could the Germans create a Holocaust? What is in the Jewish spirit that has provoked persecution through the centuries? Unflinchingly, in exploring the psyches of two men and the culture in which each is embedded, this rich novel probes the world as a whole. Richard Alther delves into German and Jewish history, the Talmud, the Old Testament, Wagnerian opera, and writings ranging from Mein Kampf to stories from the Ball Shem Tov, resulting in a riveting story of two orphans, polar opposites, who forge an intimate bond."
~ Maria Espinosa, American Book Award Winner for the novel, LONGING
Visit Website: siegfriedfollies.com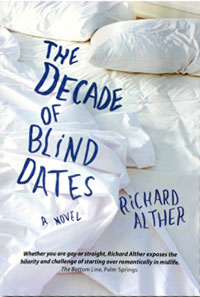 The Decade of Blind Dates
Divorced gay painter Peter Bauman dives headfirst into the pre-Internet personals in search of his ideal partner. He dates a rabid Republican physician and then a man whose passion is crocheting lace toilet seat covers…all the turbulence inherent in rekindling one's love life in midlife.
Eventually best friend Barry teaches him to become more discerning. However, it's only after he reexamines his life painting portraits that he discovers his soulmate.
"Hilarious… Pre-Internet personals, perseverance, and a strong swimmer's sturdy build all pay off for the narrator of this engaging episodic novel about a rural gay artist's decade-long-search, after coming out at midlife, for heart-connecting love-not just sweaty sex. Alther's word portraits of men met along the way-among them a Nordic-god New Age bodybuilder with a dull black toupee, a burly Bear with a bagful of erotic toys and a miniscule member, and a reclusive basket-weaver with magisterial forearms-are as humane as they are hilarious in a warm-hearted story."
~ Richard Labonte, Books To Watch For
Visit Website: thedecadeofblinddates.com

"A work of depth carefully wrought with nuance and delicately wrapped in wisdom and humor, Bedside Matters serves up a worthy exploration and antidote to the shortcomings of our material age."
Author of Millard Salter's Last Day
"Bedside Matters is a rich and articulate example of how truths fall into place towards the end of a life. Richard Alther has written with sensitive insight into the mystery of death."
Author of Coming of Age, My Journey to the Eighties
"More than a story of a man coming to terms with his life in its final chapter, Richard Alther's Bedside Matters provides meaningful insights to anyone interested in the process of letting go."
"Many of us imagine, and some even study, what death will be like, not physically, but spiritually. This beautifully-crafted narrative, which I slowly savored as both one who imagines and studies dying, provides a very thoughtful and enlightened awareness of letting go. Walter's process, guided in part by the Persian poet, Rumi, is possibly that of anyone graced with the time and circumstances to reflect on what's real, true, and important."
"The vastly talented, ever-versatile Richard Alther has produced a bittersweet beauty of a novel about death and dying. Arch-crank tycoon Walter, one of Alther's most complex characters, will remind some readers of the knight in 'The Seventh Seal' playing chess with The Reaper. Except, instead of being back from the Crusades, Walter looks back on a life of too obsessively accumulating wealth and of emotional neglect of his family. His struggles toward redemption and peace are sometimes funny, always fascinating, and in the end profoundly moving."
As a novelist I can ask questions and not necessarily seek answers. Fiction, as opposed to non-fiction, has meant for me to wander and eavesdrop, not to espouse a point-of-view…to peel endless layers of the onion in pursuit of discovery, wisdom, tolerance of diversity, compassion.